Below I highlight just two of several contributions I made to the team.
1. Interface design
I designed a few layouts for the video case interface and, in collaboration with my graphic designer, created static, working prototypes for the principle investigators to test.
| | |
| --- | --- |
| | |
| Click to see larger screen shot of interface layout 1 | Click to see larger screen shot of interface layout 2 |
I provided the wireframe, storyboard, and Dreamweaver add-ons for the designer. I left the designer to create the pages with my specifications. The designer also created the Flash-based introduction to the Best Practices site.
The final version of the video case interface is virtually identical to Layout 2 and persists to this day at this site (skip the introduction and select any case).
The site was eventually populated with several video cases after I left the team. It no longer under any development following the end of the PT3 grant.
2. Experts notation tool
The lead PI had expressed a vision of being able to highlight and notate pedagogically significant parts of a video clip. The goal was to allow novice teachers to watch and reflect on these cases with the benefit of expert comments.
In collaboration with my programmers and the video team, we designed a tool that identified timestamps in a video and associated it with comments from content, technology, and other experts.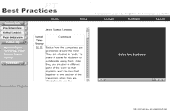 Click to see larger screen shot of an example result of the experts notation tool.
I left ASU to pursue my Ph.D. at IU shortly after this tool went online. It did not seem to undergo any further development or use thereafter. This was a pity because it was a very powerful way of scaffolding the experiences of teachers who were new to integrating technology. However, the idea of annotating objects was transferred to a PIHnet tool which I also helped design and develop.