I made three major contributions to this program. First, I sat in at district and adminstrator meetings to brainstorm and shape the nature of the training. Second, I provided WebCT training for the teachers. Third, I modeled instructional strategies by facilitating teacher discussions online, and when the semester began, facilitated seminar discussions among students.
1. Identifying training needs
I took the minutes at a meeting for generating ideas for training (for teachers) and an online seminar (for students). After I had consulted the stakeholders, my district contact gave me free reign to design activities I deemed fit.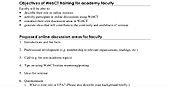 Click on the thumbnail above to minutes of a meeting for ideas on Payne Academy teacher training.
2. WebCT training
I taught the academy teachers both face-to-face and online. First I presented some concepts of online seminars since all the teachers were only familiar with traditional classroom teaching.
Click on the thumbnails above to see a PowerPoint presentation on the concepts I presented and to see a screenshot of the WebCT training area I set up.
The main goals of this presentation were to:
1) describe concepts of an online seminar
2) provide a conceptual understanding of the instructional possibilities of WebCT as a tool.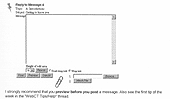 Click on the thumbnail above to view a job aid (PDF) illustrating how to log in to and use WebCT.
The actual WebCT training was facilitated by means of demonstrations, a job aid (PDF), and participation in online discussions (see below).
Click on the thumbnails above to see screenshots of the WebCT discussion forum used for teacher training.
3. Modeling online instructional strategies
I modeled these strategies while training teachers online before the school term started and while interacting with the students online once term began.
Such strategies included collaboratively setting rules and guidelines, setting expectations and criteria for success, learning to lurk/monitor, various questioning and feedback strategies, etc.
An important resource I used then were readings from the Distance Learning Resource Network (which, unfortunately, does not seem to work any more). I asked the teachers to read about these distance teaching strategies, compare them with what they did in traditional classrooms, and describe how they might need to change their teaching behaviors online.